Product Summary
The IRFP450PBF/LC is a Power MOSFET. It provides the designer with the best combination of fast switching, ruggedized device design, low on-resistance and cost-effectiveness. The TO-247 package is preferred for commercial-industrial applications where higher power levels preclude the use of TO-220 devices. The TO-247 is similar but superior to the earlier TO-218 package because its isolated mounting hole. The IRFP450PBF also provides greater creepage distances between pins to meet the requirements of most safety specifications.
Parametrics
IRFP450PBF/LC absolute maximum ratings: (1)ID @ TC = 25℃ Continuous Drain Current, VGS @ 10V: 14 A; (2)ID @ TC = 100℃ Continuous Drain Current, VGS @ 10V: 8.7 A; (3)IDM, Pulsed Drain Current: 56 A; (4)PD @TC = 25℃, Power Dissipation: 190 W; (5)Linear Derating Factor: 1.5 W/℃; (6)VGS Gate-to-Source Voltage: ±20 V; (7)EAS Single Pulse Avalanche Energyb: 760 mJ; (8)IAR Avalanche current: 8.7 A; (9)EAR Repetitive Avalanche Energy: 19 mJ; (10)dv/dt Peak Diode Recovery: 3.5V/ns; (11)TJ, TSTG, Operating Junction and Storage Temperature Range: -55 to 150℃; (12)Soldering Temperature for 10 seconds: 300℃; (13)Mounting Torque, 6-32 or M3 Screw: 10lb·in (1.1N·m).

Features
IRFP450PBF/LC features: (1)Dynamic dV/dt Rating; (2)Repetitive Avalanche Rated; (3)Isolated Central Mounting Hole; (4)Fast Switching; (5)Ease of Paralleling; (6)Simple Drive Requirements; (7)Lead (Pb)-free Available.

Diagrams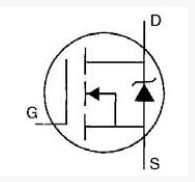 IRFP044

Vishay/Siliconix

MOSFET N-Chan 60V 57 Amp

Data Sheet

Negotiable

IRFP044, SiHFP044

Other



Data Sheet

Negotiable

IRFP044N



MOSFET N-CH 55V 53A TO-247AC

Data Sheet

Negotiable

IRFP044NPBF

International Rectifier

MOSFET MOSFT 55V 49A 20mOhm 40.7nCAC

Data Sheet



| | |
| --- | --- |
| 0-1: | $1.21 |
| 1-25: | $0.79 |
| 25-100: | $0.57 |
| 100-250: | $0.53 |


IRFP044PBF

Vishay/Siliconix

MOSFET N-Chan 60V 57 Amp

Data Sheet

Negotiable

IRFP048

Vishay/Siliconix

MOSFET N-Chan 60V 70 Amp

Data Sheet



| | |
| --- | --- |
| 0-331: | $3.92 |
| 331-500: | $3.60 |
| 500-1000: | $3.46 |
| 1000-2000: | $3.37 |