Product Summary
The IRF540N is a 33A, 100V, 0.040 Ohm, N-Channel Power MOSFET, made by Intersil Corporation. This module is completely manufactured, assembled and tested under ISO9000 quality systems certification. Intersil Corporation reserves the right to make changes in circuit design and/or specifications at any time without notice.
Parametrics
IRF540N absolute maximum ratings:(1)Drain to Source Voltage (Note 1), VDSS: 100 V; (2)Drain to Gate Voltage (RGS = 20kΩ) (Note 1), VDGR 100 V; (3)Gate to Source Voltage, VGS ±20 V; (4)Drain Current, Continuous (TC= 25℃, VGS = 10V) (Figure 2), ID: 33A; (5)Drain Current, Continuous (TC= 100℃, VGS = 10V) (Figure 2) , ID: 23A; (6)Pulsed Drain Current, IDM: Figure 4; (7)Pulsed Avalanche Rating, UIS, Figures 6, 14, 15; (8)Power Dissipation, PD: 120W; (9)Derate Above 25℃: 0.80W/℃; (10)Operating and Storage Temperature, TJ, TSTG: -55 to 175℃; (11)Maximum Temperature for Soldering, Leads at 0.063in (1.6mm) from Case for 10s, TL: 300℃; (12)Package Body for 10s, See Techbrief TB334, Tpkg: 260℃.

Features
IRF540N features: (1)Ultra Low On-Resistance: rDS(ON) = 0.040Ω, VGS = 10V; (2)Simulation Models; (3)Temperature Compensated PSPICE and SABER Electrical Models; (4)Spice and SABER Thermal Impedance Models; (5)Peak Current vs Pulse Width Curve; (6)UIS Rating Curve.

Diagrams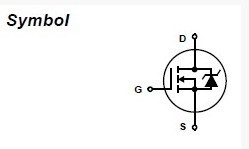 Image
Part No
Mfg
Description
Pricing
(USD)
Quantity

IRF540N

International Rectifier

MOSFET N-CH 100V 33A TO-220AB

Data Sheet



IRF540N_R4942

Fairchild Semiconductor

MOSFET TO-220AB N-Ch Power

Data Sheet

Negotiable

IRF540NPBF

International Rectifier

MOSFET MOSFT 100V 33A 44mOhm 47.3nC

Data Sheet



| | |
| --- | --- |
| 0-1: | $1.41 |
| 1-25: | $0.91 |
| 25-100: | $0.66 |
| 100-250: | $0.62 |


IRF540NLPBF

International Rectifier

MOSFET MOSFT 100V 33A 44mOhm 47.3nC

Data Sheet



| | |
| --- | --- |
| 0-1: | $1.51 |
| 1-25: | $0.97 |
| 25-100: | $0.70 |
| 100-250: | $0.66 |


IRF540NL



MOSFET N-CH 100V 33A TO-262

Data Sheet

Negotiable

IRF540NS

International Rectifier

MOSFET N-CH 100V 33A D2PAK

Data Sheet



IRF540NSPBF

International Rectifier

MOSFET

Data Sheet



| | |
| --- | --- |
| 0-1: | $1.73 |
| 1-25: | $1.12 |
| 25-100: | $0.74 |
| 100-250: | $0.73 |


IRF540NSTRLPBF

International Rectifier

MOSFET MOSFT 100V 33A 44mOhm 47.3nC

Data Sheet



| | |
| --- | --- |
| 0-1: | $1.73 |
| 1-25: | $1.12 |
| 25-100: | $0.80 |
| 100-250: | $0.76 |