Product Summary
The FT232BL-TR is the 5 × 5 mm lead free QFN32 package version of the 2nd generation of the popular USB UART I.C. The FT232BL-TR is not only adds extra functionality to its FT8U232AM predecessor and reduces external component count, but also maintains a high degree of pin compatibility with the original, making it easy to upgrade or cost reduce existing designs as well as increasing the potential for using the FT232BL-TR in new application areas.
Parametrics
FT232BL-TR absolute maximum ratings: (1)Storage Temperature: –65℃ to + 150℃; (2)Floor Life (Out of Bag) at Factory Ambient (30oC/60% Relative Humidity): 192 Hours (Level 3 Compliant); (3)Ambient Temperature (Power Applied): 0℃ to + 70℃; (4)VCC Supply Voltage: -0.5 to +6.00 V; (5)D.C. Input Voltage - USBDP and USBDM: -0.5 to +3.8 V; (6)D.C. Input Voltage - High Impedance Bidirectionals: -0.5 to +(Vcc +0.5) V; (7)D.C. Input Voltage - All other Inputs: -0.5 to +(Vcc +0.5) V; (8)DC Output Current – Outputs: 24 mA; (9)DC Output Current – Low Impedance Bidirectionals: 24 mA; (10)Power Dissipation (VCC = 5.25V): 500 mW.
Features
FT232BL-TR features: (1)Single Chip USB Asynchronous Serial Data Transfer; (2)Full Handshaking & Modem Interface Signals; (3)UART I/F Supports 7 / 8 Bit Data, 1 / 2 Stop Bits and Odd/Even/Mark/Space/No Parity; (4)Data rate 300: 3M Baud (TTL); (5)Data rate 300: 1M Baud (RS232); (6)Data rate 300: 3M Baud (RS422/RS485); (7)384 Byte Receive Buffer / 128 Byte Transmit Buffer for high data throughput; (8)Adjustable RX buffer timeout; (9)Fully Assisted Hardware or X-On / X-Off.
Diagrams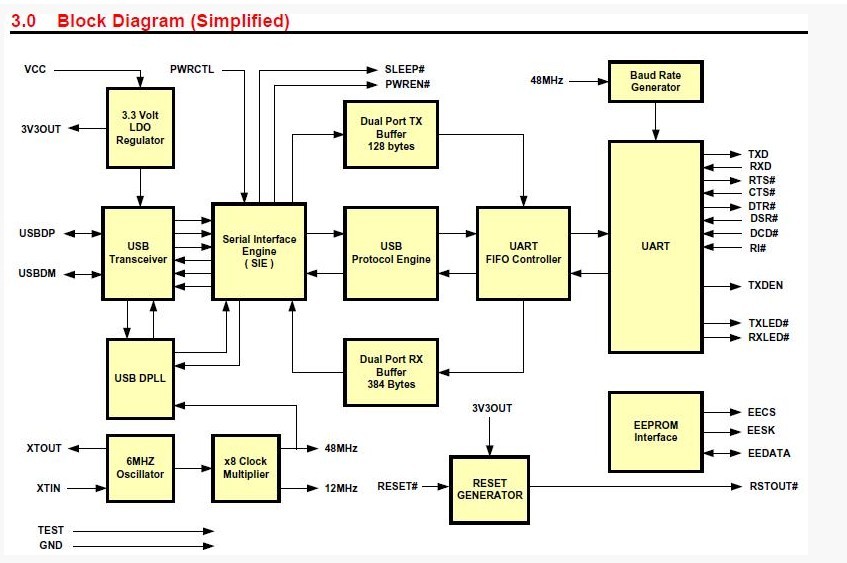 FT230XQ-R

FTDI

USB Interface IC USB to Basic Serial UART IC QFN-16

Data Sheet



| | |
| --- | --- |
| 0-1: | $1.22 |
| 1-50: | $1.18 |
| 50-100: | $1.14 |
| 100-1000: | $0.84 |
| 1000-5000: | $0.81 |


FT230XQ-T

FTDI

USB Interface IC USB to Basic Serial UART IC QFN-16

Data Sheet



| | |
| --- | --- |
| 0-620: | $1.14 |
| 620-1000: | $0.84 |
| 1000-5000: | $0.81 |


FT230XS-R

FTDI

USB Interface IC USB to Basic Serial UART IC SSOP-16

Data Sheet



| | |
| --- | --- |
| 0-1: | $1.22 |
| 1-50: | $1.18 |
| 50-100: | $1.14 |
| 100-1000: | $0.84 |
| 1000-3000: | $0.84 |


FT230XS-U

FTDI

USB Interface IC USB to Basic Serial UART IC SSOP-16

Data Sheet



| | |
| --- | --- |
| 0-630: | $1.14 |
| 630-1000: | $0.84 |
| 1000-5000: | $0.81 |


FT231XQ-R

FTDI

USB Interface IC USB to Full Serial UART IC QFN-20

Data Sheet



| | |
| --- | --- |
| 0-1: | $1.27 |
| 1-50: | $1.23 |
| 50-100: | $1.19 |
| 100-1000: | $0.87 |
| 1000-5000: | $0.84 |


FT231XQ-T

FTDI

USB Interface IC USB to Full Serial UART IC QFN-20

Data Sheet



| | |
| --- | --- |
| 0-620: | $1.19 |
| 620-1000: | $0.87 |
| 1000-5000: | $0.84 |